Tag Archives:
Appraisal Theory
[speaker]Dr. Wu-Ying Hsieh[/speaker]
[speaker]Ms Aditi Dubey-Jhaveri[/speaker]
[date]18th March, 2014[/date]
[time]12:30 to 14:00[/time]
[venue]Room204, Rumme Shaw Building, HKU[/venue]
Literacy, generally defined as the ability to read and write, constitutes a set of skills that are essential for academic and life success. To support literacy learning is one of the primary objectives of school education. In recent decades of globalization, the development of literacy skills has been extended to language(s) other than one's mother tongue. In this Symposium, two scholars will share their research on literacy development. With their different target languages (L1 vs L2), theoretical frameworks, research approaches and age ranges of learners, the two presentations will provide distinct yet complementary insights into literacy research, research methodology as well as teacher education. 
[post slug="coaching-early-childhood-teachers-use-teaching-strategies-support-young-childrens-literacy-development" subtitle="Topic 1"]
[post slug="study-evaluative-strategies-student-produced-crime-news-texts" subtitle="Topic 2"]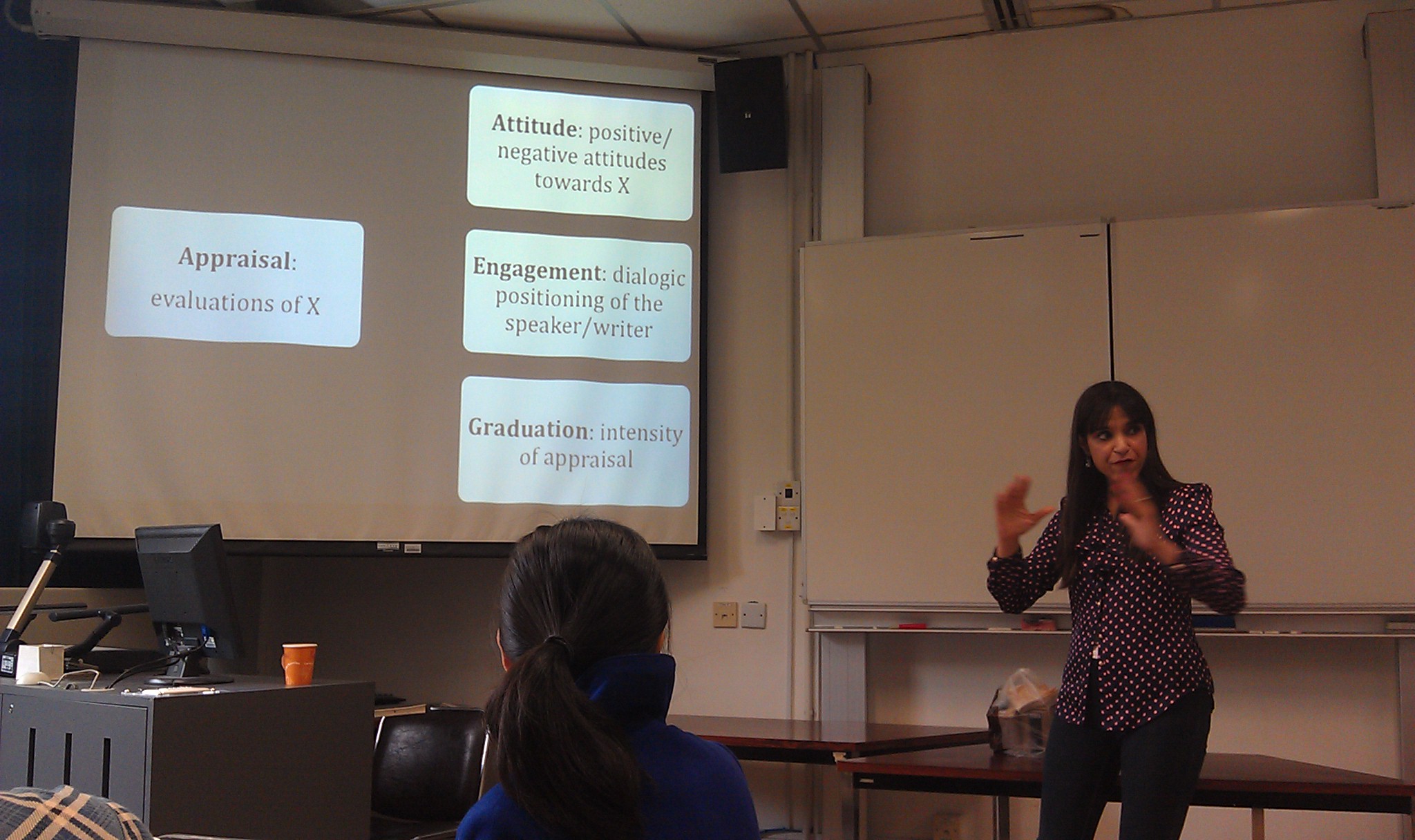 [date]18th March, 2014[/date]
[time]12:30 to 14:00[/time]
[venue]Room204, Rumme Shaw Building, HKU[/venue]
[speaker]Ms Aditi Dubey-Jhaveri, Centennial College, HKU[/speaker]
This presentation is part of SoL-SRT Symposium – Literacy development.
Abstract
The research draws on Appraisal Theory within functional linguistics to investigate the evaluative strategies through which objectivity is constructed in 40 student-produced crime news texts obtained from a class of Associate Degree students in Hong Kong. Findings reveal that under the guise of 'objectivity', judgment is most commonly expressed through provocative statements in the form of direct quotes, which are attributed to different sources. In addition, judgment in crime news manifests itself through the use of typical lexical items, which are specific to the genre. This suggests that student journalists are familiar with the need to maintain the status quo in terms of complying with the expected social norms of behavior, and consequently align themselves with their community's shared sense of moral values. However, this subtle form of subjectivity, which even amateur journalists are able to use with a certain degree of competence, may often go unnoticed by the lay reader.
About the speaker
Ms. Aditi Dubey-Jhaveri is currently working as Assistant Professor at Centennial College (a member of HKU Group). She has been teaching media, journalism, language and communications-related subjects for a decade in Hong Kong universities. After obtaining her master's degree, she worked as a news writer and presenter for BBC World Service Radio in London, and as a sub-editor for an online portal in Hong Kong. With work experience in the mass media and a significant track record of teaching at the tertiary level, she has published a number of journal articles and book chapters in her field. In addition, she has served as a reviewer for journals such as Journalism Studies, Visual Communication Studies, and Global Communication and Social Change. She received the 'Outstanding Teacher Award' from HKU SPACE CC in 2007 and was later awarded the 'Postgraduate Fellowship, 2008' by HKU.
[post slug="sol-srt-symposium-literacy-development" subtitle="SoL-SRT Symposium"]